What to know before traveling to Japan: Learn all the Japanese travel tips before migrating to Japan.
Japan is a country you'll want to visit again and again, with its glittering royal palaces, ancient temples, and sacred shrines, as well as sandy beaches, some of the world's best skiing, and beautiful national parks.
Things To Know Before Traveling To Japan
Japan has a reputation for being an etiquette-bound country, which can be intimidating to first-time visitors. Don't get it. Learn Japan Travel Tips below.
Traditions in this country are no more formal or restrictive than in many other places around the world. Furthermore, most locals are more than willing to assist or excuse foreign visitors from any perceived faux pas.
Expectation management is essential in almost every aspect of life. So, put your mind at ease with our top travel tips for Japan.
What To Know Before Traveling To Japan As a Foreigner
Traveling to Japan as a foreigner might be challenging sometimes. This is especially if you don't know certain Japanese travel tips. Below is a list of all the things to know and do before migrating to Japan from another country. These things will help you enjoy your trip to Japan without hitches.
1. Book Your Accommodations in Advance
In a bit, you can probably get a room at a basic business hotel without making a reservation. But why do you have to take the risk? Top accommodations can fill up weeks or even months in advance. Therefore, you have to plan ahead.
Busy travel periods include the first week of January, cherry blossom season (late March through April, depending on the destination), "Golden Week" (April 29 to May 5), and August. So, book accommodation beforehand if you plan to travel to Japan during this period.
More so, note that smaller inns or ryokan (traditional Japanese inns) frequently have set check-in times outside of which staff will not be present and rooms will not be made up. Plan your arrival time in advance.
2. Travel During Cherry Blossom Season – Things To Know Before Traveling To Japan
You might be surprised to know that the beautiful cherry blossoms seen on postcards and tourist brochures throughout Japan bloom only during the sakura (cherry blossom) season.
It is the most expensive time to visit Japan, lasting roughly from the end of March to early May, but it is also the most enchanting and vibrant/best time to travel to Japan.
Sakura is so prized that there is a word for admiring it (and other flowers): hanami. As you walk through parks, you'll notice crowds gathered for hanami parties and picnics under trees. Sounds cool and fun, right?
3. Make Sure You Are Putting on The Right Shoes
Sounds funny and crazy I guess. Yea, but it's as important as that. However, the right shoes can make your trip worthwhile.
Walking shoes that are comfortable are needed. You'll also have to remove your shoes frequently at religious sites, traditional inns, and some restaurants – packing shoes that are easy to slip on and off will come in handy thereon. In addition, because you'll be slipping into a pair of communal slippers when you remove your shoes, many visitors prefer to wear socks always. Of course, it is a good idea anyways.
Always remove your "outdoor" shoes before entering a temple or someone's home, especially where there are "indoor" shoes to change into.
To walk on tatami mats, you'll need to remove your shoes (often in temples and traditional houses).
Also, if you go to the restroom in a temple, restaurant, or home, make sure you put on your toilet slippers. Did you get that?
4. Be polite – Things To Know Before Traveling To Japan
When traveling to Japan, you must have to polite. However, this is a general principle everywhere.
Foreigners have a reputation in Japan for being loud and noisy, especially on public transportation, so be courteous and respectful. Note that it is impolite to answer your phone, and if you're listening to music, turn the volume down low.
It's considered rude in Japan to blow your nose in public rather than a sniff, and it's best to avoid eating on the go. So, avoid all these habits while in public places.
5. There is no Need to Tip – Things To Know Before Traveling To Japan
It is not necessary to tip while in Japan.
In fact, it can be considered rude, and if you do tip, you may be pursued by a waiter who thinks you've left your change by mistake.  Alternatively, if you take a guided tour or cooking class for example, you can bring a small present from your country as a token of your appreciation.
6. Get a Data-Heavy SIM Card at the Airport While Traveling to Japan
Alternatively, you can get a pocket wi-fi device. Because Japan's street-address system is very difficult to navigate, even for locals, smartphones with navigation apps have been a huge help to visitors. However, you can rely on data usage.
7. Be Ready for the Weather While Traveling to Japan
Summers in Japan are hot and humid, posing a serious risk of heatstroke. Therefore, always carry water with you. More so, a folding umbrella with UV blocking can also be useful and serves a dual purpose in case of a sudden shower.
The annual rainy season begins in late June when it can rain for days without stopping; this can last a few weeks or through most of July.
Furthermore, rain and strong winds are expected again during typhoon season, which runs from September to October (and earlier in Okinawa). Typhoons can cause significant travel disruption; keep an eye on the situation by following the storm and other weather warnings issued by the Japan Meteorological Agency, which are available in English. Winters can be bitterly cold, with massive snowfalls in northern Thoku and Hokkaido.
Weather-related necessities such as umbrellas, hats, cooling wipes, and pocket warmers can be found at Japan's universal convenience stores.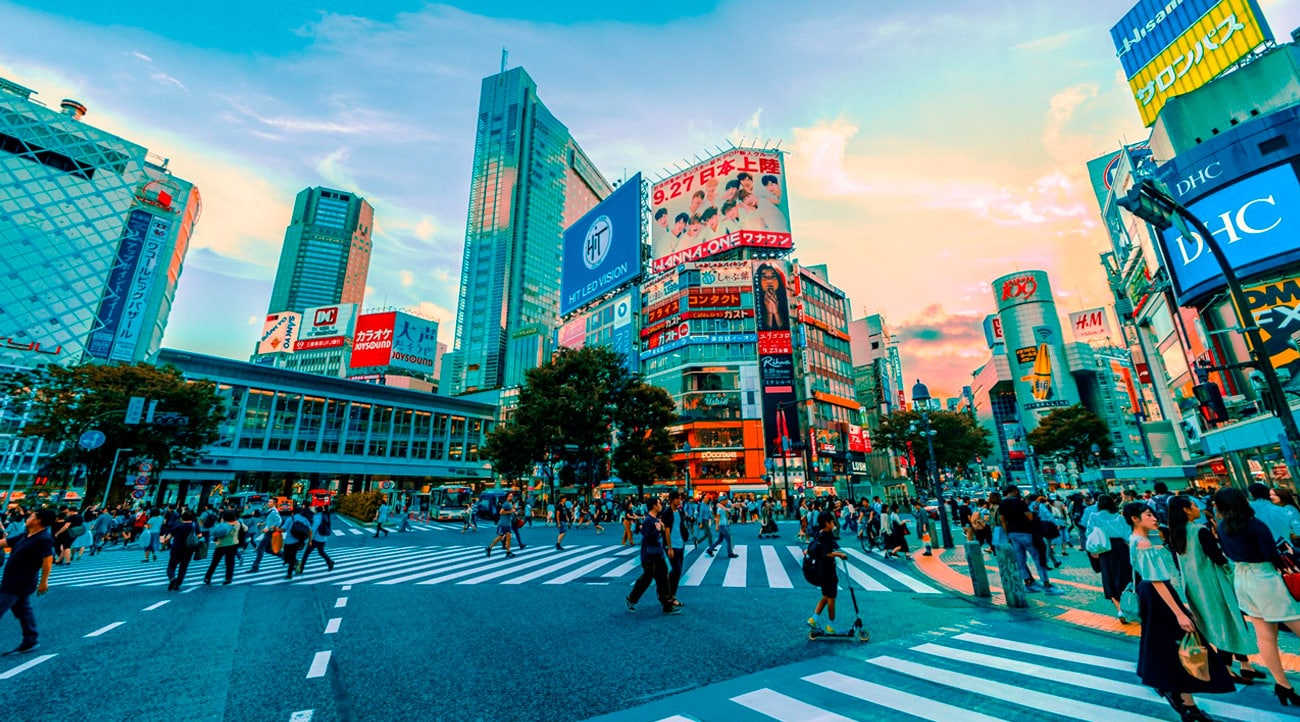 8. Make Sure to Carry Enough Cash When Traveling to Japan
Note: Credit cards may not be accepted in rural Japan and at older family businesses in cities. So, it's best to assume you'll need cash to pay at the country ryokan and smaller restaurants and shops. Therefore, stock up when you're in a town with an ATM.
To pay in the Japanese way, place your cash or credit card in the small tray at the register rather than handing it to the cashier.
9. Buy a Suica or Pasmo Card
These prepaid cards, like London's Oyster card, can be used on most metro and bus services and topped up in stations. However, you must pay a small deposit, but you will receive the majority of it back if you return your card at the end of your trip.
Interestingly, the cards can be less expensive than paper tickets, especially on journeys involving a change of lines. Not to mention that with the card, you won't have to stop and queue every time you board a train.
10. Get used to wearing face masks.
While it may appear strange to you, Japanese people frequently wear paper face masks. This is done to keep them and you healthy. More so, they're also worn to keep allergies at bay during cherry blossom season.
11. If you are visiting Tokyo, fly to Haneda Airport
Haneda airport is likely to be more convenient and less expensive than Narita airport for getting to central Tokyo and your accommodation.
12. Take the Shinkansen
Japan's bullet trains are an experience in their own way. They glide smoothly through the country, incredibly fast, and always on time. In fact, they're the best way to get around.
Before you go, purchase a JR Pass, which is valid on all Japanese railways. Note that, while most people will be racing through the ticket barriers on prepaid cards, you will need to wait at the ticket barriers for someone in the station to check your pass.
13. Join the line/Queue – Things To Know Before Traveling To Japan
The Japanese love to form neat lines at everything from check-out counters to train platforms. However, with regards to the latter, once the train doors open, it's everyone for themselves in terms of securing a seat.
14. Stand to the left or right
Always ride on one side of the escalator – which side depends on where you are. It's to the left in Kanto and eastwards, and to the right in Kansai and westwards. (The dividing line is somewhere west of Nagoya.) In addition, train operators prefer that passengers stand on both sides of the escalator and avoid walking altogether, even if commuters have so far ignored these guidelines.
15. Know the local lingo – Things To Know Before Traveling To Japan
English is widely spoken in cities and around major tourist attractions in Japan; however, it is hit or miss in rural areas. Some Japanese phrases to know when dining out are listed below:
omori (large portion)
okawari (refill)
mochikaeri (takeaway)
tennai de (eat-in)
onegai shimasu (please).
toire (toilet; pronounced "to-ee-rey")
sumimasen (excuse me)
arigato gozaimasu (thank you). Or simply say arigato.
16. Make a note of addresses or print the kanji
Write down addresses you'll need to find in Japanese. This will make it much easier for people to direct you or for a taxi driver to understand where you want to go (however, be aware that taxis can be expensive).
Importantly, you may also want to download an offline map app or purchase a Japanese-English map.
17. There's no 24-hours public transport in Japan
In Japan City, there is no 24-hour public transportation; subways run until 1 a.m. at the most. If you miss the last train of the night, your only option is to take a taxi, which can be costly sometimes.
18. The Morning Commute can be Intense and Exhausting.
The morning commute is a contact sport for Tokyo residents. On weekdays from 7:30 a.m. to 9:00 a.m., millions of people crowd into trains across the city, sometimes aided by station staff who ensure everyone is crammed in. Shinjuku Station, the busiest in the world, sees over 3.5 million commuters per day and has over 200 exits leading in and out of the complex.
19. Prepare to Comeback – Things To Know Before Traveling To Japan
From gadgets and gizmos for things you didn't even realize you needed (a chopstick-held fan for your noodles, anyone?) to the bright, brash lights of Osaka and Tokyo to some of the most awe-inspiring architecture and peaceful temples in the world, Japan will have you hooked.
However, be prepared to return once your visa expires, especially if you could not renew it.
20. Earthquakes occur on a regular basis
Japan is one of the world's most seismically active countries in the world. However, while large earthquakes are uncommon, minor tremors occur frequently. If this happens while you're here, stay calm and take cues from those around you. But, if the shaking worsens, go under a table or stand in a doorway; strict building codes keep most damage to a minimum.
A rarer but more dangerous tsunami can occur as a result of a major earthquake. But, if this happens, listen for tsunami warnings and get to higher ground as soon as possible if you are near the coast.
Was that post "Japan travel tips" helpful?
Drop your comment on "things to know before traveling to Japan" in the comment box.
What To Know Before Traveling To Japan is a must-read if you want to have a nice stay in Japan. Have your say.